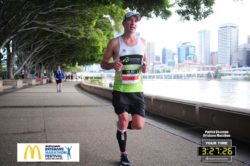 Accredited Exercise Physiologists (AEPs) are recognised allied health professionals with a diverse range of knowledge and skills across the health, exercise and sports science fields. Exercise Physiologists in Australia have strict standards to achieve accreditation with their national body, ESSA (Exercise and Sports Science Australia). Training includes a 4-year university degree as well as the study of medical science subjects such as anatomy, neuroscience and physiology. Their scope of practice ranges from rehabilitation following stroke and cardiac surgery right through to elite sport performance programs optimising biomechanics and injury prevention. They are also qualified in treating children of all ages, whether it be for improving co-ordination, fitness, rehabilitation or sports performance.
The essential component of Exercise Physiology lies in development of specialist exercise programs for individuals which typically includes exercise delivery and supervision, advice and support, and a strong focus on successfully changing lifestyle behaviours. Exercise physiologists work closely with doctors, specialists, orthopaedic surgeons and other allied health professionals such as Sports Dietitians in order to achieve the best possible outcome for their patients and athletes.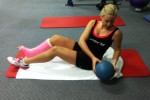 Who needs an Exercise Physiologist?
Anyone with the following goals could benefit:
– Weight loss
– Muscle gain
– Injury rehabilitation, for eg low back pain
– Post-surgery rehabilitation
– Technique improvement for sport
– Injury prevention programs
– Parkinson's and stroke rehabilitation
– Individualised Exercise Programs to suit your goals
– Performance training
– To help manage chronic health conditions eg diabetes, osteoporosis, high blood pressure.
Your Exercise Physiologist will
– Do an initial assessment to determine health status and exercise history;
– Explain how exercise therapy will help to treat or improve your condition and improve your quality of life;
– Discuss your exercise and health goals, and develop strategies to achieve these goals;
– Complete a physical assessment to determine your current physical abilities to enable a program to be designed;
– Instruction on how to complete the exercise program, including how to achieve good technique;
– Written reports back to your doctor and any other important allied health professionals;
– Ongoing assessment to track your progress and identify changes to your program as they need to occur;
– For athletes – ongoing performance markers and feedback sessions including coaches where appropriate;
– For weight management programs – ongoing outcome measures to give you a clear outline of your progress (eg skinfold and fitness measures).
How Much Does it Cost?
The consultation cost for AEP services varies. A number of subsidies are available under Medicare Australia and The Department of Veterans' Affairs. Patients are also able to attract private health fund rebates from most private health insurers. For further information, please check with your GP or Private Health Insurer.
What Should I Wear?
Exercises tailored to you and your body will be a part of all AEP sessions. Wear anything that you feel comfortable in while exercising, as well as comfortable shoes (joggers are ideal).
For more information on how an Exercise Physiologist can benefit you, please call our friendly reception staff and have a chat about your goals today!