Exercising after pregnancy has many physical and psychological benefits which will help you return to your pre pregnancy fitness and sport. Many of the physiological changes of pregnancy can persist for several months post partum, but exercise can speed up and assist your recovery.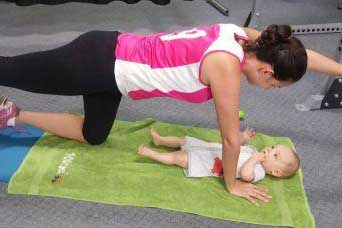 Benefits of postnatal exercise include:
Increased muscle strength
Increased cardiovascular fitness
Decreased back pain and incontinence
Reduced postnatal depression
Assistance with weight loss
Improved mood and energy
Reduced stress
Improved sleep
Exercise postpartum must be gradually increased and individualised as each woman's pregnancy experience is different. Due to hormonal changes, your ligaments and joints are more lax which increases the risk of an injury, however keeping your muscles as strong as possible will decrease this risk. Soon after pregnancy, gentle abdominal and pelvic floor exercises can be introduced.  These muscles will be lengthened and weakened which decreases your spinal and pelvic stability, increasing your risk of back pain and injury. Strengthening these deep core muscles will also assist with any incontinence or bladder problems after childbirth. If you have had abdominal separation (Rectus Diastasis), which occurs in up to 70% of women during pregnancy, specific exercises can be introduced under the supervision of a Physiotherapist or Exercise Physiologist to facilitate closure of the stomach muscles. This is important for preventing back pain, but also for preparation of any future pregnancies. Back strengthening exercises will also be beneficial for restoring your posture, reducing neck and shoulder pain, and for ease of lifting and carrying your baby.
Many women post partum, look forward to returning to running or team sports. Our Exercise Physiologists can guide you through a safe home or gym based strength and cardiovascular program suitable for your chosen sport, which meets your individual goals. They can also show you several exercises where you can incorporate your baby, allowing special bonding time for mum and bub.  Working with an Exercise Physiologist will help you to return to sport as soon as possible, whilst minimising your risk of injury.
No referral is needed to book an Exercise Physiology appointment, and most private health funds will rebate a large proportion the fee.
For more information or to book an appointment please call our friendly reception staff on 4783 7284.
References:
Artal, R., & O'Toole, M. (2003). Guidelines of the American College of Obstetricians and Gynecologists for exercise during pregnancy and the postpartum period. British journal of sports medicine, 37(1), 6-12.
Pool-Goudzwaard, A. L., ten Hove, M. C. S., Vierhout, M. E., Mulder, P. H., Pool, J. J., Snijders, C. J., & Stoeckart, R. (2005). Relations between pregnancy-related low back pain, pelvic floor activity and pelvic floor dysfunction. International Urogynecology Journal, 16(6), 468-474.